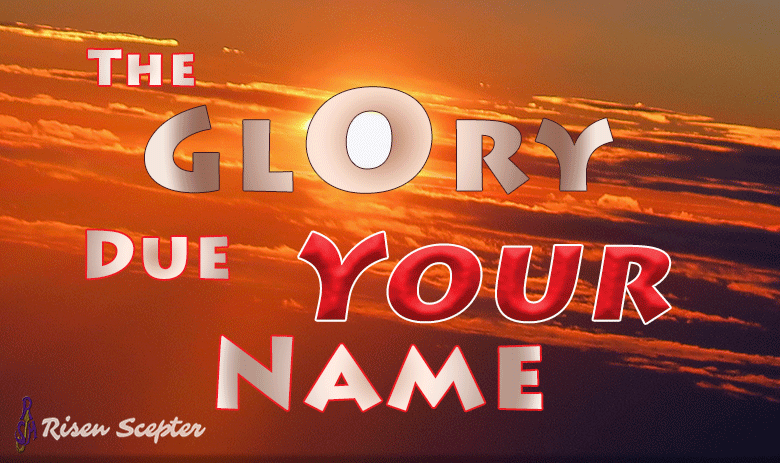 1 Chronicles 16:29
29 Ascribe to the Lord the glory due his name; bring an offering and come before him! Worship the Lord in the splendor of holiness
ESV
My Heart's Desire


Lord it is my heart's desire to have my mind set on you throughout my day.


But even when in the morning I determine that I will do just that, as the assault of daily pressure begins sometimes my determination is overshadowed by the things that confront me.
This leaves me to think at days end that I have failed in that I have not amply glorified you as I should.
I know that this is nothing new. Even the Lord Jesus told those that would listen that—"Sufficient (enough) for the day is its own trouble (Matt. 6:34 ESV)
Father, I long for you to develop within me, by the work of Your Spirit, a daily dependence which looks not to others, but to you only.
Who Does What I Fail to Do?


When I do catch myself thinking that I have not glorified you as I should, I also think which of your people can honestly say that they have?


Lord, I don't know other people's hearts but I do know mine to the extent that I can, and I am human as they are. King David tells us in 1 Chronicles 16:29 that we are to ascribe to you the glory due Your name, and in my heart I long to do just that.

However, I can't help but think that we as finite creatures cannot begin to comprehend what glory is due you—what are the infinite bounds of Your worth, for Your worth is boundless!

How is it humanly possible to put into words Your magnificence? What human language is able to appropriately "ascribe" to You the glory due You?
This depiction is far beyond the tongues of men, or for that matter angels. Are we not all created where You are self-existent, having always been? The task is impossible!
If That Were Not Hard Enough


As if it were not hard enough, or impossible, to adequately ascribe to You Your due glory, David adds to this another statement. We are to worship You in the "splendor" of Your holiness.


Father, help me daily to set my eyes and heart upon You, and not on the temporary things that surround me.
These daily events are nothing but shadows that are momentary, passing phantoms soon not to be remembered when compared with your eternal brilliance.
Help Me Recognize


Help me recognize, O God, that You have set before me, and not only that, but have encompassed me with Your presence. A presence which may not be equaled nor rivaled.

As I dwell in this elegant beauty and grandeur which is a holy manifestation of Your divine nature—be glorified in my life Lord, as I, in my feebleness attempt to ascribe to you that which is indescribable…

The Glory Due Your Name!