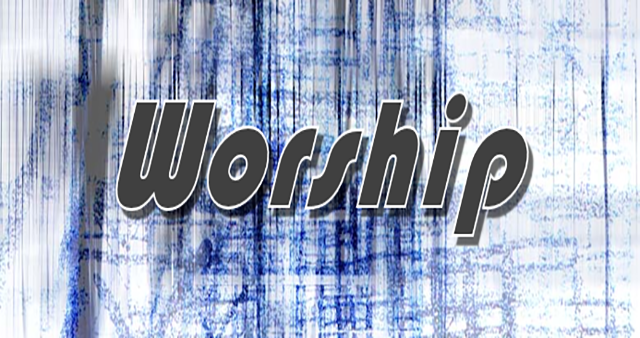 You - Him - Us
Coming together in His presence - a place of unity
There is no greater privilege than coming into the presence of the Living God, whether we are alone or together.
Yet the unity that is experienced in a corporate setting when true
worshipers gather to seek His face is something that few have been able to articulate in human terms. This is not accomplished through music, nor through song, but through hearts that have been bound together by His Spirit. Ephesians 4:1-6
If the Holy Spirit is not in attendance, internally and externally no corporate worship can be accomplished. However if those indwelt by Him gather with the single purpose to worship and adore His name they will find themselves enveloped in the presence of the Lord of all the earth. This is a place of no lack, no sickness, nor any control by demonic power; this is the place before the throne of God where He reigns in the hearts of His people.
God then begins to move among His people
It is in this place of corporate worship that God begins to glorify Himself among His people according to His will and purpose.
Blind eyes are opened to Him as the Lord moves among those drawn together that they might behold His glory and enjoy Him. It is here in this place that He begins to speak and direct a body of believers as they see Him manifest Himself.
I challenge anyone that has been in a corporate worship setting of this magnitude to tell me that God does not move in power today. Those that have not experienced this type of moving of the Spirit, sponsored by true corporate worship have only to seek Him genuinely and earnestly for the opportunity. It is God's good pleasure to be found glorified in the midst of His people.


Sometimes boisterous - Sometimes silent
It must be understood that there will be times of exuberance and there will be times of overpowering silence.
When King David triumphantly led the procession that ushered the ark of God into Jerusalem he celebrated so lavishly that it caused his cynical wife Michal to disdain his actions which she saw as foolishness and beneath the stature of the King of Israel.
2 Sa 6:16
16 Then it happened as the ark of the Lord came into the city of David that Michal the daughter of Saul looked out of the window and saw King David leaping and dancing before the Lord; and she despised him in her heart.
NASU
David danced while Michal sneered
The king held nothing back. The word in the Hebrew for dancing means to whirl. David was whirling and leaping before the Lord. This he did to shouting and the sound of the trumpet. 2 Samuel 6:15 It was because of his actions that Michal despised (thought of him with disesteem) her husband. This is as it is with Corporate Worship 2those that despise the moving of the Spirit today.
My point is in the above that this was certainly not a quiet event and yet there are times in the presence of a holy God that silence is demanded.
Hab 2:20
20 But the Lord is in His holy temple. Let all the earth be silent before Him."
NASU
When anything but silence is inappropriate
I have been in worship services where none dared utter a word for the immensity of God and the thickness of His imminence was all about us.
There was no one that spoke and said it was proper at the time to remain silent, no one had to. Everyone simply knew that God was in the place and words at that time were highly inappropriate for the Lord had manifested Himself to His temple, the Church.
The best of both
During corporate worship you may hear weeping, you may hear laughing, you may hear repentance, you may hear shouts of joy; or conversely you may hear nothing at all. All these things and more could possibly be witnessed as the Lord moves sovereignly among us. The only thing that matters is Him and what He desires to do at that time. We are not to direct the proceeding, we are but to surrender and behold the Creator of all things enter.
Ps 24:7-10
7 Lift up your heads, O gates,
And be lifted up, O ancient doors,
That the King of glory may come in!
8 Who is the King of glory?
The Lord strong and mighty,
The Lord mighty in battle.
9 Lift up your heads, O gates,
And lift them up, O ancient doors,
That the King of glory may come in!
10 Who is this King of glory?
The Lord of hosts, He is the King of glory. Selah.
NASU
1. The Essence of Worship | 2. Personal Worship | 3. Corporate Worship | 4. Music and Dance