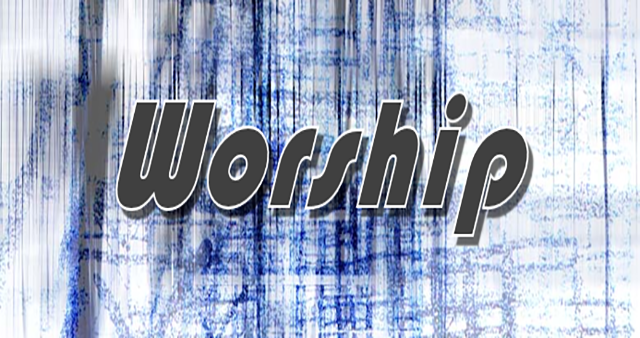 Instruments of Worship
The Vision
Over twenty five years ago, while working in a retail home center I had an experience that will dwell with me until its fulfillment and beyond.
Having no customers and not much more ambition at that particular moment, standing next to the sixty cup coffee maker, I was gazing past the building materials counter toward the
electrical department looking at nothing specific.

We've all had those moments, being someplace yet not really engaged in our physical circumstances. It really wasn't my intent to goof-off, there was just a lull in the retail assault and my mind needed a rest before it turned to jelly. My point is that not only was I not thinking about anything generally, I wasn't thinking about God in particular. This is when the movie screen descended over my vision and I was transported to another place and another time. Somewhere in the future where I was to observe an event yet to come.
I found myself standing on a platform with a bible in my right hand. The palm of my hand was facing upward and the spine of the bible was directly in the center of my hand with its left and right halves drooped over either side. I had been teaching.
There was a large group out in front of me, the number that has always rested in my spirit since this event was five thousand people. This is not the amazing part because this event was not about me, this is not self-aggrandizement. God in His sovereign will had chosen to give me a vision.

As I watched and as I listened this is what I beheld and heard. From behind me a worship team was playing instrumentally. At that moment no one was singing. It was as if the music floated past me, borne by the Spirit of God to the worshipers amassed there.
The crowds that were gathered there basked in the presence of God seeking His will, three specific things began to happen.
Number one, people were healed of every type of physical infirmity. Number two, people were set free of every type of demonic influence. Number three, those that did not know the Living God came into relationship with Him through the provision of His Son.
There were no alter calls, there were no emotional pleas
There were no alter calls, there were no emotional pleas, there was only us and the King of the universe. It was an intimate gathering of five thousand drawn together in unity to worship their Creator and experience joy and liberty in His presence.
This was more than twenty five years ago. I was a young believer at the time and had never heard of anything such as people experiencing healing as worship music was played.
I have since that time heard a few reports of such incidents and yet not on the scale of what I had beheld. Nonetheless God in due time will bring this forth.
God's Creative Nature
One of the primary marks of the image of God that the Creator has instilled within His human creatures is that of creativity, God's creative nature. It is only (super)natural that those in Him which are called as artists and musicians, express their love of Him in this manner. However we have not yet begun to understand, fully or partially, what the Lord Artist intends for those of us that have creative calls.

Certainly the vision that was given those twenty five plus years ago is but the possible initial stages of what He intends to do in the earth at the coming of His presence in great measure. The point here is that the vehicle the Sovereign Lord used at that time was instrumental worship. What I saw was only the beginning of what He will do.

Music and creative expression will play an integral part in the manifestation of God's presence. There will be those that will be delivered from the influences of demonic presence as music is played.
1 Sa 16:22-23
22 Saul sent to Jesse, saying, "Let David now stand before me, for he has found favor in my sight." 23 So it came about whenever the evil spirit from God came to Saul, David would take the harp and play it with his hand; and Saul would be refreshed and be well, and the evil spirit would depart from him.
NASU
There will be those that "prophecy" with their instruments
1 Ch 25:1
25 Moreover, David and the commanders of the army set apart for the service some of the sons of Asaph and of Heman and of Jeduthun, who were to prophesy with lyres,harps and cymbals;
NASU
As the Lord builds His house He will manifest Himself through our worship
1 Ki 8:10-11
10 It happened that when the priests came from the holy place, the cloud filled the house of the Lord, 11 so that the priests could not stand to minister because of the cloud, for the glory of the Lord filled the house of the Lord.
NASU
So shall it be as those who are called to creatively express their worship of the Triune God play and dance before Him, for God's house is built through worship. Soon we will leap and dance before Him just as Elizabeth's child leapt in her womb before the presence of the Lord who was about to be birthed into the earth.
Lk 1:39-41
39 A few days later Mary hurried to the hill country of Judea, to the town 40 where Zechariah lived. She entered the house and greeted Elizabeth. 41 At the sound of Mary's greeting, Elizabeth's child leaped within her, and Elizabeth was filled with the Holy Spirit.
NLT
Soon we shall leap before Him as a man healed from years of infirmity
Ac 3:8-10
8 With a leap he stood upright and began to walk; and he entered the temple with them, walking and leaping and praising God. 9 And all the people saw him walking and praising God; 10 and they were taking note of him as being the one who used to sit at the Beautiful Gate of the temple to beg alms, and they were filled with wonder and amazement at what had happened to him.
NASU
Soon we shall stand in amazement and bow in wonder before the King as He enters His temple to be adored by those who worship Him
1. The Essence of Worship | 2. Personal Worship | 3. Corporate Worship | 4. Music and Dance